Sales & Deals
Lucky Seven Sale
We will be running a Lucky Seven sale from now until the end of January (which means this won't be the last time I talk about it). In order to get this deal you will have to contact Lynn directly by e-mailing lynnstran@cox.net.
Here's the deal. All titles listed—while supplies last—are $7.00 each. If you buy seven or more books (any combination of titles on the list), you will also get free shipping and handling. Regular shipping is $3.00. If you order under seven books, just add $3.00 to your payment.
Any of Selina Rosen's titles can also be signed and/or personalized at your request.
This is a hell of a deal! BEST SALE EVER! Be sure to tell your friends! Or don't because the holidays are coming up and as I've said many times before, books make the best gifts. When you give a Yard Dog Press Lucky Seven Sale book as a gift, then for once people will open a gift and NOT know how cheap you are.
And here's what's on sale...
| | |
| --- | --- |
| By Selina Rosen | By Laura Underwood |
| By Lee Killough | By Ken Rand |
So check these titles out and then e-mail Lynn at lynnstran@cox.net and buy some books. DO IT NOW!!!
General Sales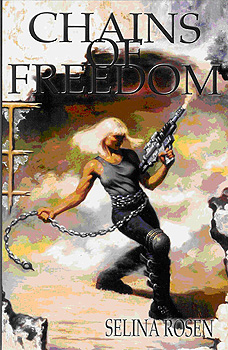 The first two books in the Chains trilogy by Selina Rosen (Chains of Freedom and Chains of Destruction) are now on sale for $5.00 apiece.

The Reliance has turned the Earth into a planet of agricultural slaves. Heading off search of better, more mineral and resource-rich planets, they run into a bipedal, humanoid race known as Argys — who are doing the same thing. Now battling for dominance of the galaxy, neither the Reliance nor their alien enemy care one bit about the general population of either species.

When political prisoner David Grant runs from the forced labor camp where he's been imprisoned, his only thought is of escape. However, he literally runs into the one person who can help him in his fight against the all-powerful Reliance.

RJ is the rebel Elite who's been raiding supply trains and sabotaging Reliance facilities so successfully that even the work units know her name. With David's innocent enthusiasm and desire for justice and RJ's knowledge of weapons and warfare, they begin to chip away at the Reliance armor.
Limited Time Sales
Free shipping in the US for all orders through January 31, 2015!
Gift Certificates (available all year)
Email Lynn at lynnstran@cox.net and arrange for your gift certificate — choose from several ways to pay and several ways to deliver the gift. Gift certificates make great gifts!